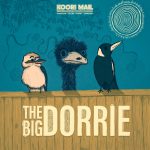 The Big Dorrie - EPISODE 4
Real men show their emotions & vulnerability.
17 September 2021
The Big Dorrie would like to advise that this episode contains themes that may trigger some listeners. Listener discretion is strongly advised. In this special episode of The Big Dorrie (formerly The BLAKyard), Kirk, Naomi & Luke have a yarn to Joe Williams, who is a proud Wiradjuri man, NRL Star, and passionate community advocate for mental health and suicide prevention. Kirk and the crew talk to Joe about his contribution to the new book 'Dear Son - Letters and Reflections from First Nations Fathers and Sons' by Torres Strait Islander man Thomas Mayor. Joe talks to the idea that the strongest men in our lives are those who aren't afraid to show their vulnerability and emotions. Joe also speaks to The Big Dorrie crew about his advocacy work in bringing the conversation about mental health to the table, and Naomi talks about some deadly books The Big Dorrie recently received from New South Books at the University of New South Wales. So grab a cuppa, kick off your shoes, and join the mob for a Dorrie about everything Knowledge, Culture, Country and Connection. The Big Dorrie podcast is a Koori Mail production. The theme music featured in this podcast is "Rocksteady" by Aretha Franklin. TWITTER: twitter.com/koorimailnews @koorimailnews FACEBOOK: facebook.com/koorimail/ @koorimail INSTAGRAM: instagram.com/koorimailnewspaper/ Subscribe to the Koori Mail Newspaper here: koorimail.com For more information on Joe Williams' advocacy work visit: joewilliams.com.au For Podcast enquiries please contact: podcast@koorimail.com If this podcast raises any issues for you please contact the National Indigenous Critical Response Service on 1800 805 801 or Lifeline on 13 14 11. At the Koori Mail, we acknowledge and pay our respects to the Bundjalung Nation, and the lands of the Widjabul Wiabul people upon which our offices sit, and to all Ancestors and Elders. ALWAYS WAS, ALWAYS WILL BE, ABORIGINAL LAND
The Big Dorrie would like to advise that this episode contains themes that may trigger some listeners.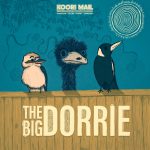 The Big Dorrie
The Big Dorrie is a podcast produced by the Koori Mail Newspaper. Grab a cuppa, kick off your shoes and join Naomi Moran & Luke Carroll for a Dorrie about ... everything!